To understand the dream behind
Culineer
, you have to understand the people it serves - the farmers and their communities. Because, when we address issues like "sustainability" and "community" around local food, we're talking about what keeps people going day-to-day.
Eating food is part of that. Producing food is another part. But underneath it all, we still have this "big why" that fuels the engine.
Justin Slaughter of Shelbyville, KY shared his "big why" with us the other day.
The Slaughter Family Farm hasn't been around long. In fact, Justin was an independent insurance agent in 2017, less than five years ago, when his daughter Dorothy asked, "Daddy, can we get chickens?" Yet, their farm grew quicker than most.
They started with 6 laying hens and made their way to 6,000 broilers (meat chickens) for 2022.
It was no cakewalk, but they made it happen. This is a story about how fast a dream can come true with the right intention and the right people in your corner.
A Curious Spark
"I do think a lot of it started with curiosity..." - Justin Slaughter
When Dorothy Slaughter asked her father about farming chickens, they immediately looked into it. Justin knew there would be a learning curve, but for someone innately curious, that was no trouble. They started with a handful of hens and shared their eggs around the neighborhood.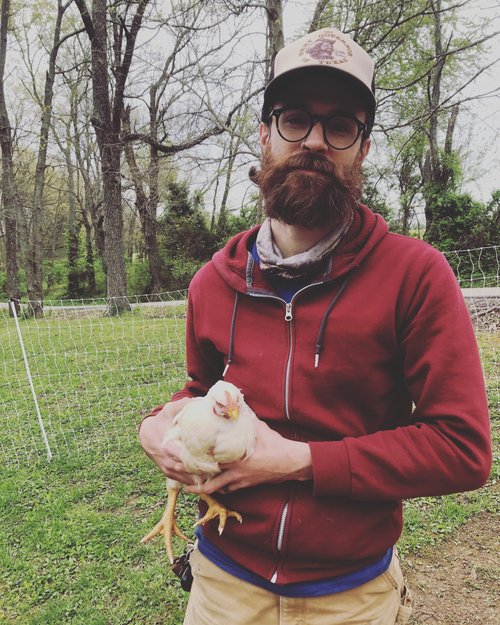 Once word-of-mouth spread, people started asking if the Slaughters sold whole chickens. That sparked an interest in learning more about raising broiler chickens. Some people may not realize that egg layers and chickens raised for meat require a different type of operation.
That started the Slaughter family on a journey to make the sustainable farm they run today. Justin began asking how larger farms operate. He sought partnership opportunities with a few. But after some rejections, he decided to start an operation on his own land. It was not as much land as those bigger farms, but it made Justin think more about how they could get the most of their limited resources.
The Slaughters had 300 heritage breed meat chickens by 2018, only a year after their journey began. Sustainability has remained a priority over the years, part of which involved keeping the animals happy and healthy. Today, their chickens, turkeys and ducks are all free-range, pasture-raised, with open-sided shelters.
What began with a simple question, "Daddy, can we…?" became a living, breathing enterprise. Of course, the Slaughters needed to answer many other questions along the way. And that's where their community chipped in.
A Little Help from My Friends
"...and the neighbors come knocking" - Justin Slaughter
The Slaughters reached 6,000 broiler chickens by October 2021. It was a massive undertaking in remarkably little time. Justin admits his journey was a lot of trial and error, but he was also "able to connect with the right people" to help him, which made the difference.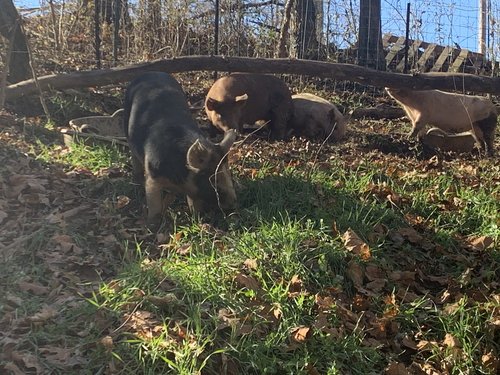 He started by selling only to friends and family. It helped that they knew a thing or two about farming – their hometown in Shelby County, KY was a farming town. First and foremost, Justin's parents were "a huge encouragement" when he started.
"I definitely wouldn't be where I am today if it wasn't for their support," he said.
Fortunately, Justin had even more people in his network to call, and they answered. A high school friend helped him find land to lease before buying a farm. Another friend, Luke Groce of Groce Family Farm, answered all of his questions along the way.
"If it wasn't for me having a relationship with him, asking questions like, 'How do you build this?' I don't think I would've gotten this far this quick."
Justin's community helped lay a stable foundation for his farm. Here's how the Slaughter farm continues to promote that same community value today.
A Little Help from My Family
Farming can't be separated from the dinner table. And that's where Justin finds some local help from his family. "My wife is the person who cooks best in the house. She's the one with the recipes."
New farm customers are often unfamiliar with certain ingredients. They need lots of information on storing and preparing their food. As a result, farmers often scramble for recipes and other information to share with them.
Not every farmer has someone around to help with that. They can spend hours searching and sharing with different customers, which steals time away from farm and home life. This is a problem Justin believes the Culineer app can help solve. It enables farmers to share original recipes more quickly and keep their community informed throughout the year.
"The more my customers can connect with other people who have good recipes and good food, that's where the benefits could be," said Justin. "Culineer takes it out of my hands…saving me time and effort having to come up with different blog entries…or printing out recipe cards with vista print."
It's all about connection. And that brings us to the original question:
Why farm? Why food?
The Reason for Every Harvest
"When I think about farming, I think, 'How do I best love my neighbor?'" - Justin Slaughter
What's the point of food? Justin said it best:
"We need food to nourish ourselves…we go out to restaurants to celebrate…there's always relationship, community happening around food.
Communities are built around food. Families cook food with love, and they depend on farmers to produce it with love. It's a circle of local producers and consumers meeting the needs of each.
"When you look at something like Culineer that can provide that experience for a family or an elderly or newly married couple, it heightens the experience," Justin said.
For Justin, it all starts at home."When I think about farming, I think, 'How do I best love my neighbor?' And that's caring for the neighbors in my own household."
But he doesn't stop there. Justin wants the love in his household to reach the neighborhood and surrounding communities as well. "The more people I can reach, the more I can help others in my neighborhood and people of all walks of life. I love farming, because I have people across the spectrum buying my food."
To paraphrase the Danish philosopher Søren Kierkegaard, "Your neighbor is the one you see."
That's what local, sustainable farming is all about.