At Culineer, we are aiming to build a more sustainable world by making it easy for consumers to eat locally-produced foods. Liz Riffle, her farm, and her values embody everything we believe at Culineer as we continue to educate our community and inspire more people to support farmers and to cook with local, healthy ingredients.
How does a U.S Navy Nurse Corps veteran adjust to life post active duty? Apparently, raising grass-fed bison in the beautiful West Virginia countryside is a viable option.
Liz Riffle, Owner and Operator of Riffle Farms, is the definition of a "True American Hero." She and her husband, Jimmie, started their farm with a passion for resilient, regenerative agriculture and a belief in what it takes to be an honest carnivore.
A Career started in the navy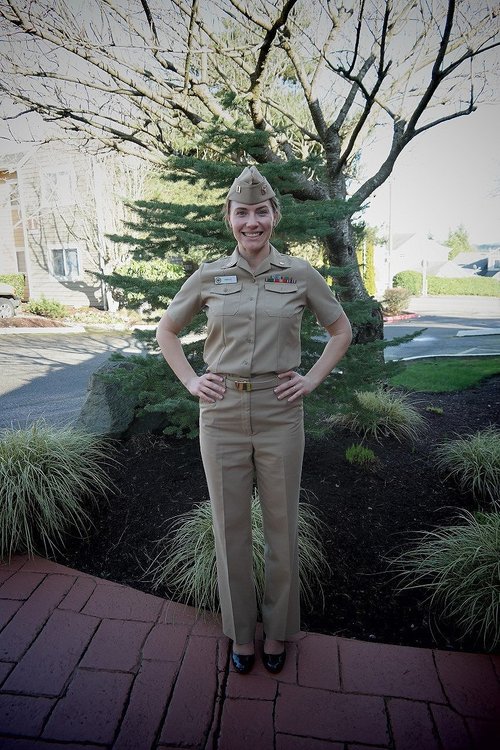 Living with a father in the Navy, Liz was raised with an appreciation for hard work and a love for her country. The majority of her childhood was spent in New Hampshire where she grew up as an equestrian. Naturally, Liz joined the military at 18-years-old and was accepted into an officer candidate program at the School of Nursing: Loyola University Chicago - she knew she wanted to be a nurse.
In 2011, she and her now-husband, Jimmie, met as stateside active-duty U.S. Navy Nurse Corps nurses serving at hospital bases throughout the country. They worked with Wounded Warriors at the National Naval Medical Center (now Walter Reed National Military Medical Center) in Bethesda, MD. Working with amputees and witnessing other forms of shocking trauma, they called this chapter of their lives a "humanizing experience" where they learned to appreciate the resilience of the human mind and body.
Eventually, Liz chose to take a step back from the nursing field. While nursing felt like a calling, she was appalled by the lack of transparency between healthcare and business. She couldn't see herself dedicating her time to an industry strongly influenced by drug and insurance companies.
Time to make a change~a New Farm In West Virginia
Going back to her equestrian roots, Liz decided to move to West Virginia (where Jimmie grew up) to raise horses. She competed as a horse jumper, volunteered at rescues, and fell in love with training large animals. This rekindled passion for animals led her down a new path: raising her own livestock.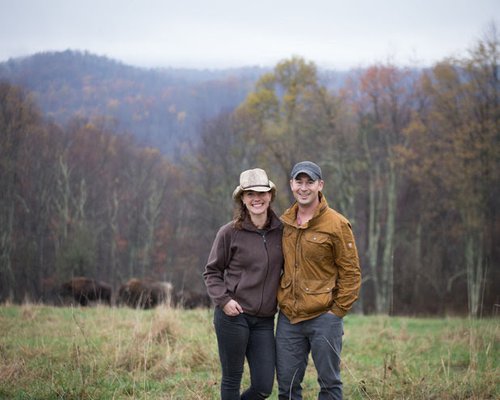 Liz is both a carnivore and an animal lover. The more she researched factory farming, the more appalled she became with the inhumane nature that is considered standard practice for how we obtain our meat today. The more she learned, the greater her disgust became with the industry. Ultimately, this is what fueled her passion for regenerative and sustainable agriculture. And there was no better way to start than the original American regenerative story - bison.
No stranger to eating bison, Liz finally felt like she had found her purpose. She was 12-years-old when she had her first taste of bison while skiing in Jackson Hole, WY - even then, she knew she was destined to recreate that short rib recipe.
Starting wasn't an easy process, and there were many ups and downs throughout her journey. Knowing they needed land, she and her husband took the risk and dumped their entire retirement savings into a 64-acre farm - today, they have expanded it to 72 acres.
Bisons Behave differently than horses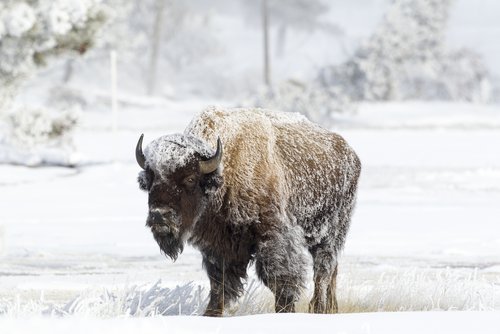 With grit and determination, Liz literally taught herself how to raise bison. She researched the industry, met with farmers, visited ranches across the country, and eventually purchased seven young bison from a farmer in Ohio. Quickly learning bison are very different from horses, Liz observed how they communicate, picked up on their herd mentality, and tested their behavior in different spaces on her farm. She also realized bison can be dangerous animals and ran into a few close calls as she taught herself how to interact with them.
Today, Liz's bison roam at Riffle Farm. She raises 100% grass-fed and grass-finished bison, as Mother Nature intended. She manages her farm with a sustainable approach and produces meat that is good for the planet and the body. Most people don't realize it, but bison is extremely healthy meat and has less fat than beef, salmon, and chicken. It is a heart-healthy option you can substitute in most beef recipes - just be sure not to overcook it!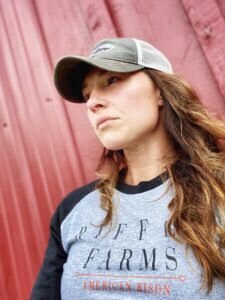 Liz's passion is to educate the public about proper field harvest and what it takes to live as an honest carnivore. Her holistic approach to farming allows her livestock to live out the roaming instinct they deserve to experience while keeping them free from suffering as their life comes full circle.
Riffle Farms was the first commercial bison operation in West Virginia. With her experience in healthcare, passion for honest food, and love for American soil, Liz will continue to educate people about honest field harvesting while feeding the people of her community.
Interested in following Liz's journey follow the Riffle Farm profile on Culineer and visit her website https://www.rifflefarms.com/ to learn about sustainable agriculture and what kind of bison dish you can prepare in your kitchen today!